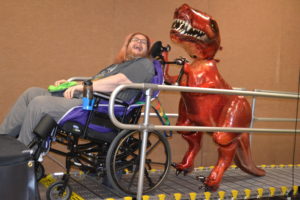 Anime Fargo is dedicated to making sure that all attendees are able to fully enjoy everything our convention offers. We are taking steps to make sure that disabled people are included when we say everyone. If you have any questions about our policies or have any needs that are not met here, please contact us at accessibility@animefargo.org.
We welcome all guests as volunteers, if they are interested. We have several options for you to help out at the convention, and would be thrilled to have you be a part of the team.
Vision: We print out a few large print program guides and have it available in pdf for reader programs
Mobility:
-All events and panels will have wheelchair seating blocked out
-Guests who cannot wait in line may contact us ahead of time to have their passes set aside
-Mobility equipment is not required to be peace marked.

-Allergy/Autoimmune:
-Food, if any, provided by convention staff (not including attendee panels), will include an ingredient list.
-Sharp disposal units are available in all public bathrooms for those who need to self medicate with injections.
Misc:
–Attendant badges will be issued at no additional charge. An attendant is an ASL interpreter, personal care attendant, or a family member who serves in the same capacity. The attendant may not attend a panel or event without the guest. If you are in need of an attendant badge, please contact us at accessibility@animefargo.org after registering.
-When possible, events with strobing lights will be noted in the program. When this is not possible, it will be announced with ample notice to leave the room before any strobing lights.
-Events with loud music will be noted in the program as well. A list of panels that will be loud and/or have strobing lights will also be provided at Con Ops.
-Permission should be obtained from ALL present parties for flash photography. Due to seizure and migraine triggers, if this is not possible we request you move to a different area for your photo.
-We offer a quiet room that is available those who require it. We request that this area is kept free of perfumes or food in order to keep it safe for those with allergies. Water is permitted.
– Service animals are welcome in compliance with the ADA. We do not require advance presence of their notice, but if you would like a special badge or have any questions for your furry companion, please contact us.